The Jacobson Flare TM//
'Aircraft approach and landing training technique for pilots'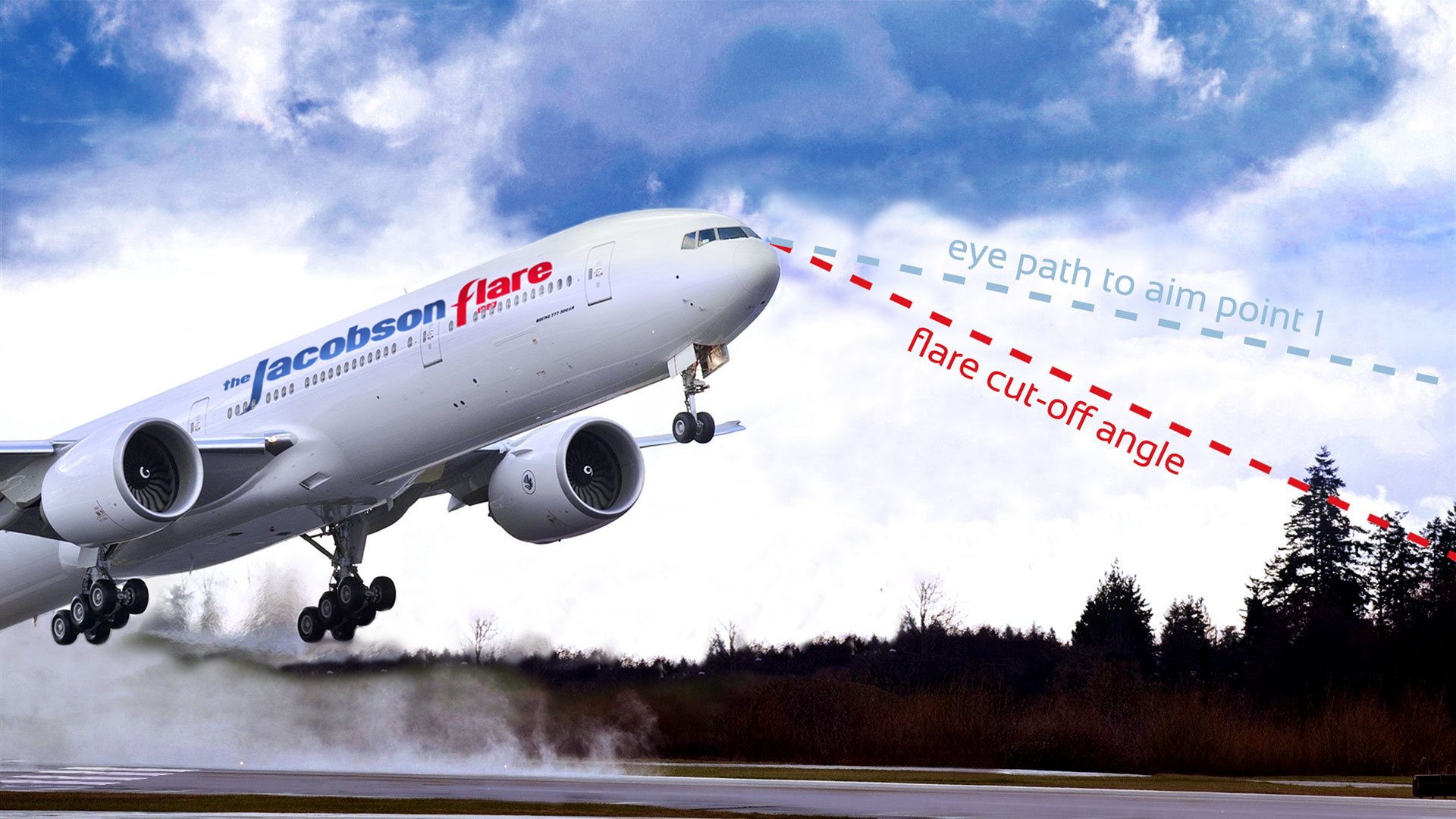 Discover the missing link in airplane landing technique
Since the first flight, pilots have pursued the elusive, consistently perfect landing. 'What' to do is generally understood. However, the 'where', 'when' and 'how' are missing from traditional landing training.
The Jacobson Flare technique is the quantifiable explanation of what pilots have been trying to achieve by feel and guesswork, with varying results, for over 100 years. It enables pilots to define and execute an accurate eye path – from final approach to touchdown.
Developed by former Qantas Airways Captain David Jacobson over the course of an impressive career in aviation , The Jacobson Flare promises better landings – every time.
The Jacobson Flare App
a reference tool for every pilot
The Jacobson Flare App for iPad explains the geometric structure that defines the eye path, underpinning the pilot skills necessary to ensure consistently smoother landings. With intuitive navigation, comprehensive instruction and a visually engaging format, the app is an essential reference tool whether you're a student, recreational pilot, professional civil pilot, military pilot or an aviation enthusiast.
Once you've learned this universal landing technique, you can apply the principles from one airport to another, during day and night and on your next larger (or smaller) airplane endorsement.
Substantial discounts apply to Flight Training Organisations. Contact Us for more information.
Hear David discuss
How The Jacobson Flare can improve your landings
Box Hill Institute Video Presentation
Box Hill Institute, Melbourne Australia Video Presentation
Watch now on YouTube
Pilots praise
The Jacobson Flare App for iPad
"I am a happy customer of your iPad app and first off would like to extend my thanks for the beautiful and intuitive design as well as the most useful content. All of the instruction I received on how to land has been very ad hoc, but having a degree in math, it's clearly a geometrical problem, which you so eloquently solved and explicated in your app.
- Dmitry Dakhnovsky, PPL, San Francisco, CA, USA
"I believe this is the most comprehensive landing training package available. As we continue to regularly see landing incidents in all facets of aviation, this has to be an opportunity to consistently achieve the landing outcome desired."
- Alan Cheers, Captain B737, Melbourne, Australia
"I thank you for your amazing explanation of the technique of flaring, a crucial few second duration manoeuvre which occupies such a small portion of any flight but has the ability to either give us a great sense of pride if pulled off well or embarrassment, frustration and disappointment if not. Thanks for such a great tool."
- Mike Bernays, QLD, Australia


"This has the elegant simplicity of the safety pin!"
- Glen Adamson, Captain DC-9, Australian Airlines Ltd
"Simple Unassailable Aerodynamic Logic"
- John Chesterfield AM MRAeS (Air Commodore RAAF, Retired)
"It is indeed a valuable addition to any pilot's flight bag. The app is, quite literally, a work of art in itself. But the most important part is the message it carries. I recommend this app to any pilot who wants a greater understanding of the landing manoeuvre."
- Captain Gary Gould, Captain A380, Sydney, Australia
"The Jacobson Flare App is one of those aids that make life easier. Everyone says that mastering the landings was the hardest part of learning to fly. Do it the Jacobson Flare way, and they won't be."
- Marc Santacroce, San Francisco, CA, USA


Download now for iPad
on the App Store

Download The Jacobson Flare App for iPad
on the App Store. Perfect for students, recreational pilots, professional pilots and aviation enthusiasts, this app comprises two distinct presentations: Portrait as an e-book and in Landscape as a comprehensive illustrated presentation. Price (RRP) USD $29.99.
Substantial discounts apply to Flight Training Organisations. Contact Us for more information.
---