3 of the very best:
Aviation apps, tools and websites
Get set to soar with some of the best aviation apps for iPad on the market today.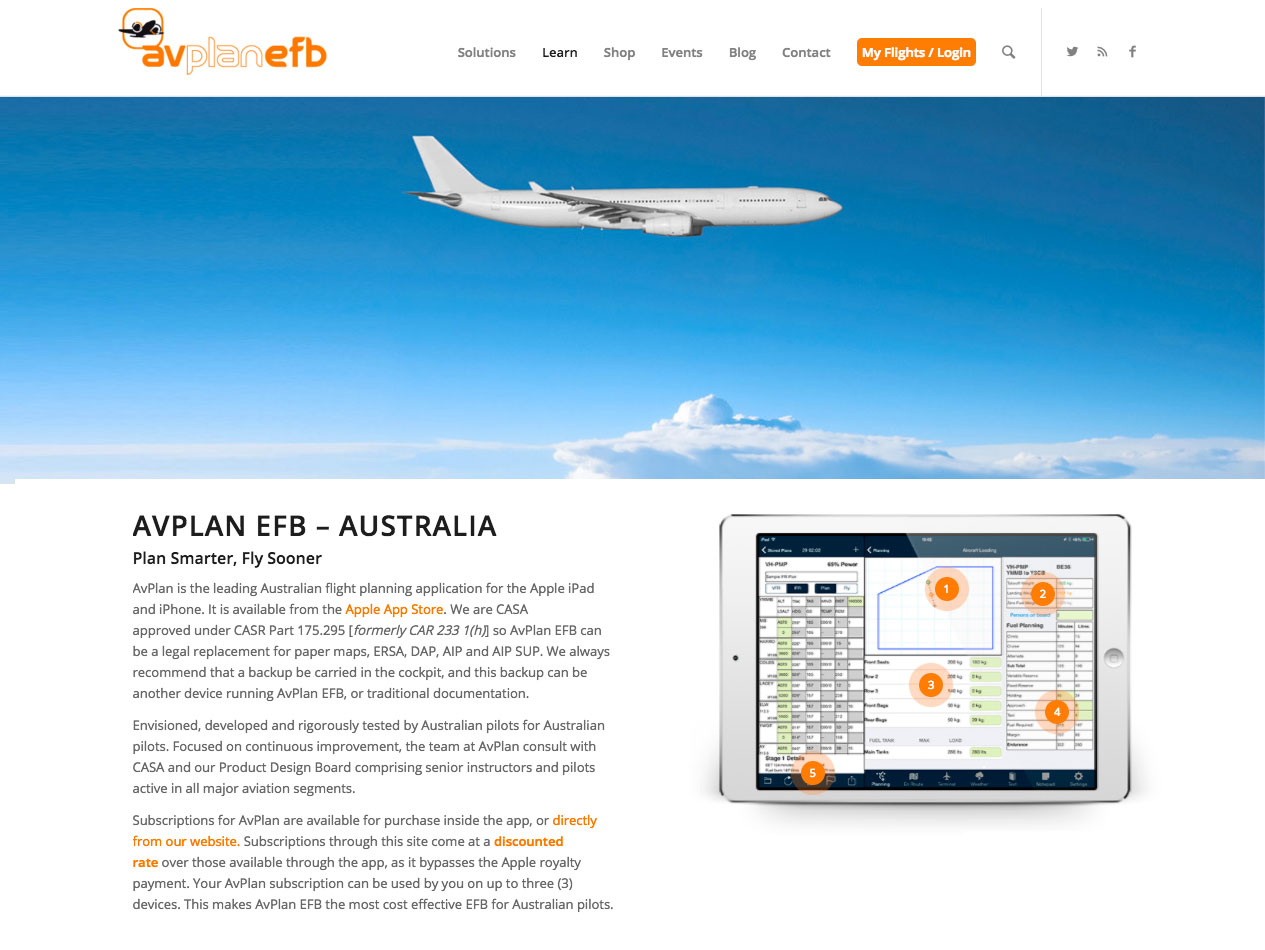 AvPlan EFB is the leading Australian flight planning application for iPad and iPhone and is available on the
App Store
.
AvPlan EFB is CASA approved under CAR 233 1(h) so AvPlan EFB can be a legal replacement for paper maps, ERSA, DAP, AIP and AIP SUP. AvPlan EFB recommends that a backup be carried in the cockpit, and this backup can be another device running AvPlan EFB, or traditional documentation.
Envisioned, developed and rigorously tested by Australian pilots for Australian pilots. Focused on continuous improvement, the team at AvPlan consult with CASA and their Product Design Board comprising senior instructors and pilots active in all major aviation segments.
Subscriptions for AvPlan are available for purchase inside the app, or directly from AvPlan EFB's
website
. Subscriptions through this site come at a discounted rate over those available through the app, as it bypasses the Apple royalty payment. Your AvPlan subscription can be used by you on up to 3 devices. This makes AvPlan EFB the most cost effective EFB for Australian pilots.
The current AvPlan user base includes pilots from all areas of aviation:
Regional, RPT pilots

Charter pilots

Agricultural pilots

Private pilots

Recreational pilots

Military pilots

SAR/EMS pilots

Designed as the go-anywhere lifetime EFB application that can grow with you – from local VFR recreational aviation through to professional IFR charter and regional airline operations, AvPlan is designed to leverage your investment by using the portability, connectivity, ease of use, reliability and processing capability of your Apple iPhone and iPad.

THE PERFECT CO-PILOT

Responsive, powerful and portable, AvPlan EFB's context awareness engine ensures it's always ready to provide you with the best possible information at your fingertips whether you're preparing for a flight or airborne.

For more information visit www.avplan-efb.com/avplan/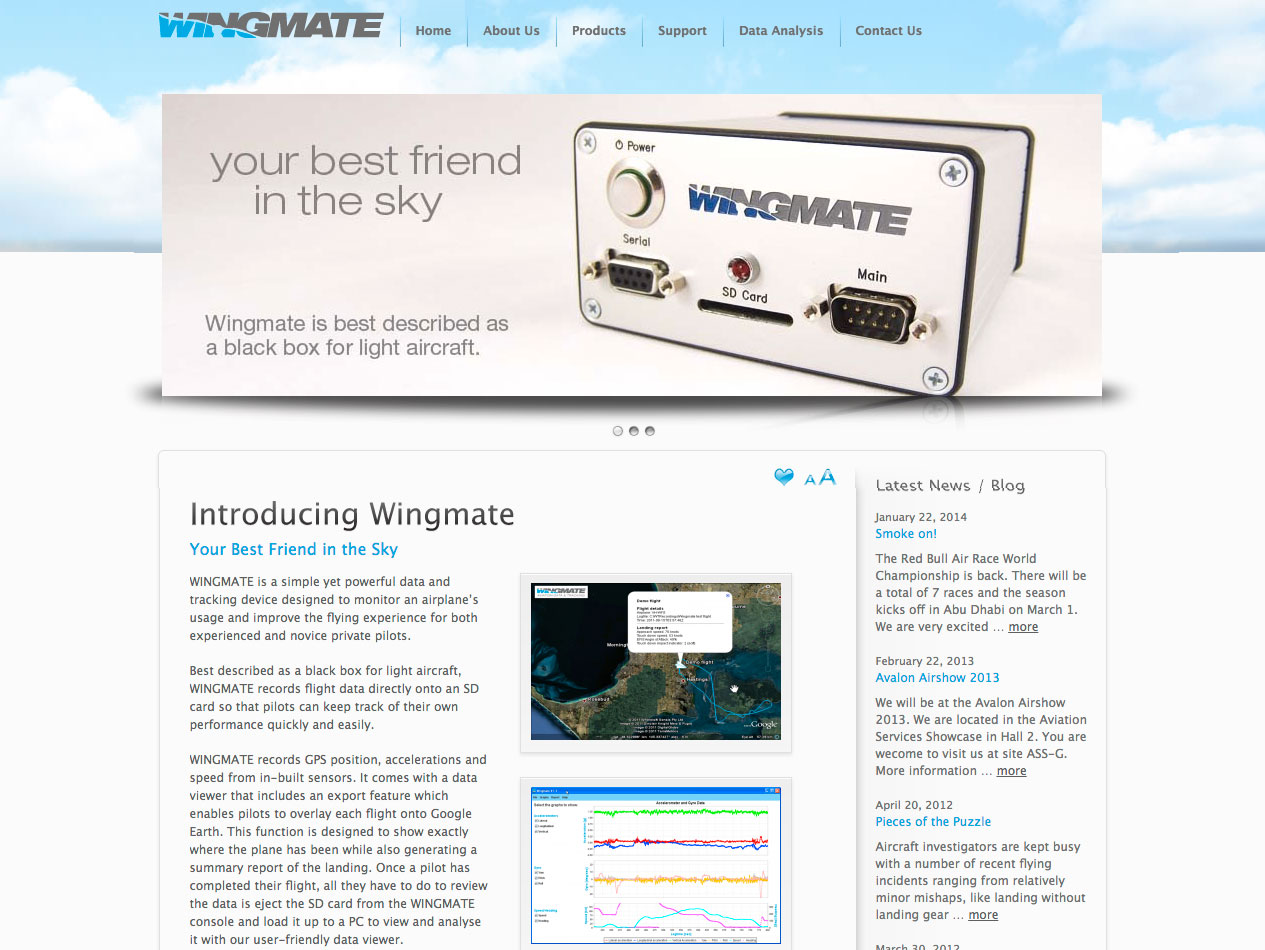 WINGMATE is best described as a 'black box' – flight data recorder for light aircraft – brainchild of Peter Wezenbeek – Race Tactician to Matt Hall Racing and former Renault F1 Race Team Control Systems Engineer. It is a simple yet powerful data and tracking device designed to monitor an airplane's usage and improve the flying experience for both experienced and novice private pilots.
WINGMATE records GPS position, accelerations and speed from in-built sensors. It comes with a data viewer that includes an export feature which enables pilots to overlay each flight onto Google Earth. This function is designed to show exactly where the plane has been while also generating a summary report of the landing. Once a pilot has completed their flight, all they have to do to review the data is eject the SD card from the WINGMATE console and load it up to a PC to view and analyse it with our user-friendly data viewer.
Now WINGMATE is combined with the unique JACOBSON FLARE landing parameters with the leading-edge technology of WINGMATE, to provide incomparable evidence-based feedback on approach and landing accuracy. This will greatly enrich WINGMATE's Landing report of recorded flights, and endow pilots and operators in any branch of aviation with finite results, to review and refine levels of competency, which are now required by aviation authorities.
WINGMATE is the perfect tool for flight instruction, rental companies, aerobatics and, of course, private pilots.
Once you've installed a WINGMATE, you'll never fly alone again.
www.wingmateavionics.com
The Jacobson Flare
App for iPad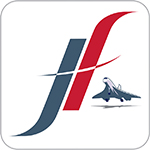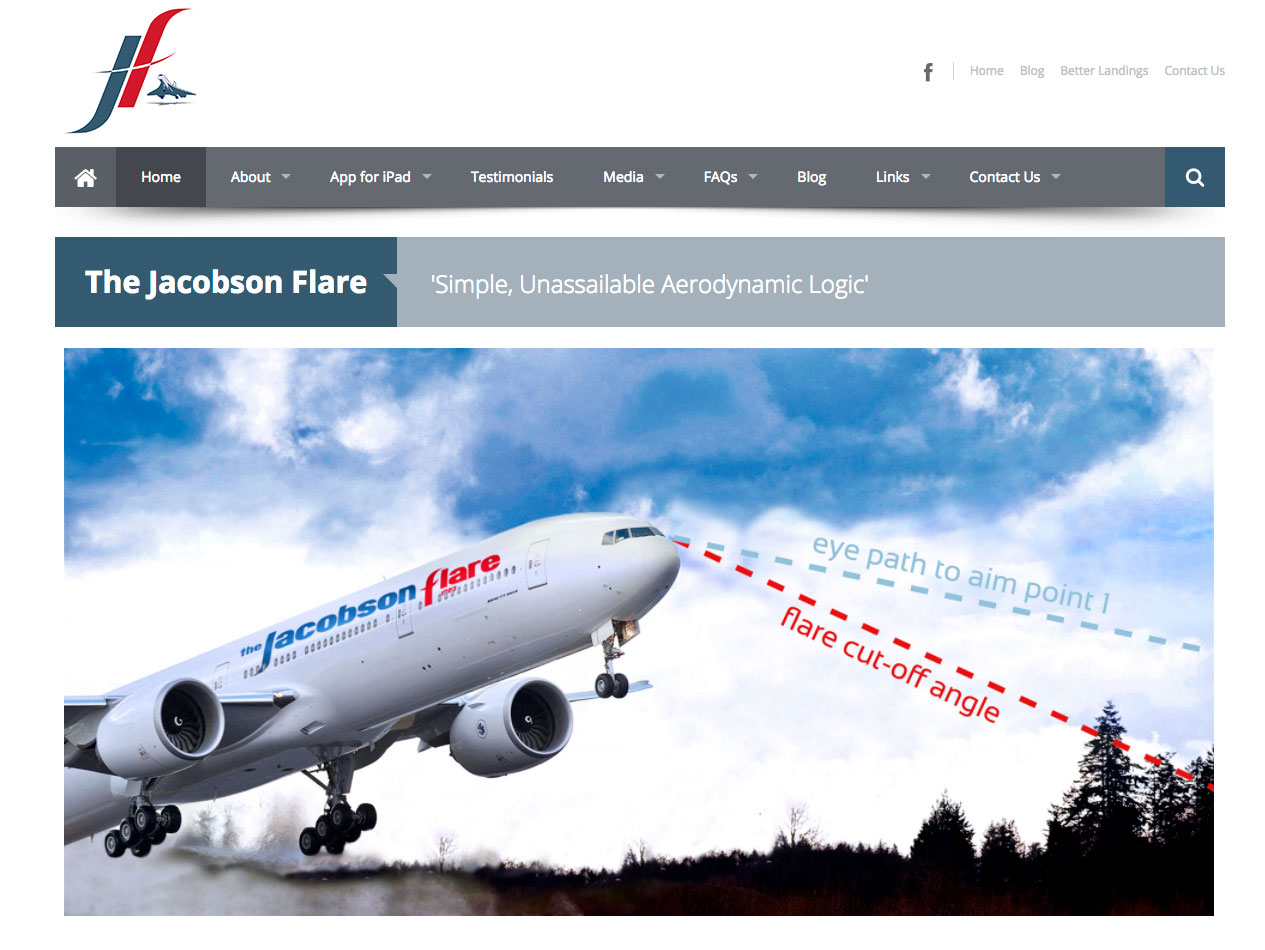 The Jacobson Flare App is simply the most affordable and effective way to
better landings
, whether you're a student pilot or have many years of experience in the air. Here's what retired A380 Captain Gary Gould from Sydney, Australia says:
"Congratulations on the publishing of your Jacobson Flare app. It is indeed a valuable addition to any pilot's flight bag.
The app is, quite literally, a work of art in itself. But the most important part is the message it carries. For any pilot, and in particular student pilots, this app will prove to be a real gem. It is filled with methods of getting the final approach path and landing correct, then backing it up with those fabulous videos. From light aircraft at small country airfields to heavy jets at major airports.
It is something for all aviators.
I particularly enjoyed Chapter 6 'Reviewing and Troubleshooting' which allow s the pilot to discover why a particular landing did not go quite as planned. The detail provided in the app is thorough, but at the same time an individual can go into this detail as far as they care to and still get the message.
Runway markings, visual aids, landing calculators for various types of aircraft – it is all there. Wonderful!
I recommend this app to any pilot who wants a greater understanding of the landing manoeuvre."
For more information visit
www.jacobsonflare.com
Download Now for iPad
at the App Store

Are you ready to discover the missing link in landing training?

Download The Jacobson Flare App for iPad today and learn the simple method behind more consistent and precise landings.