Captain David Jacobson FRAeS MAP
Biography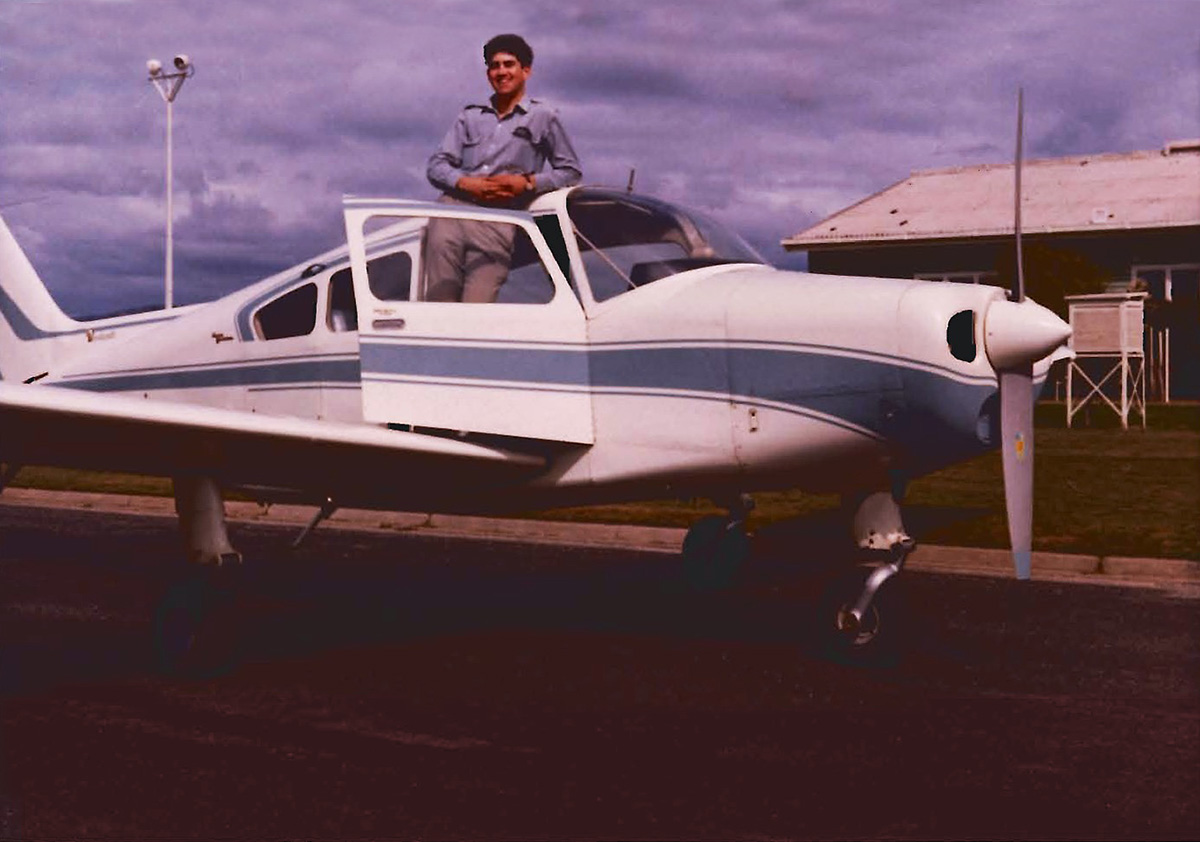 In 1965, aged 17, David Jacobson commenced flight training at Moorabbin Airport, Melbourne. After qualifying for an Unrestricted Private Pilot Licence, he was awarded a Commonwealth Flying Scholarship. Having achieved a Commercial Pilot Licence and C-Grade Instructor Rating, he then instructed on light aircraft ranging from Beechcraft and Cessna to Piper, Auster and Tiger Moth. In 1970 he joined Trans-Australia Airlines (TAA), flying as First Officer on F27, DC-9 and B727 aircraft, before achieving Initial Command on the F27, in 1982.
Although David thoroughly enjoyed short haul operations at TAA, he retained a passion to participate in aviation at a grass-roots level; so in 1983, he joined the RAAF Point Cook Flying Club as a part-time instructor. It was while teaching at Point Cook that David became puzzled by the fact that there was no definitive, universal landing technique. Even more puzzling, he recognised that this manoeuvre — so critical to the safe and satisfactory conclusion of every flight — had attracted little serious thought and attention. Convention dictated that pilots mastered landing on the basis of feel and guesswork focussed on a vertical flare height assessment — a situation that had gone unchanged since the beginning of aviation.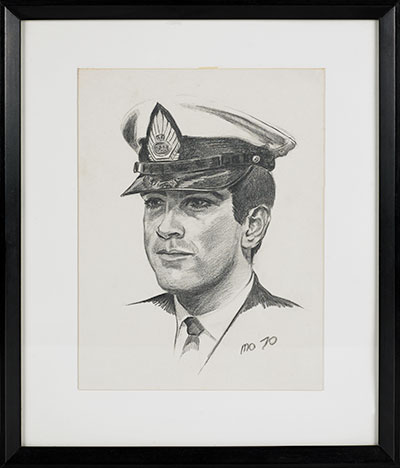 Long before his earliest days of flying, David had been inspired by a film about the 1943 "Dambusters" raid by No. 617 Squadron, RAF, in which Lancaster bombers destroyed the walls of the Mohne and Eder Dams in Western Germany. The Operation used 'bouncing bombs' which skipped along the water's surface, but for these to be effective, the pilots needed a way to determine the aircraft's altitude. As the barometric altimeters of the day lacked sufficient accuracy, two spotlights were mounted under the aircraft's fuselage so that at the correct height their light beams would converge on the water's surface. In other words, height was determined by simple triangulation. The bomb sight also used this triangulation principle. On the basis of the "Dambusters" method, David realised that in a landing situation an accurate flare fix could be derived from a triangulation between a pilot's eye path and a supplementary, pre-calculated longitudinal point on the runway centre-line, positioned short of the aim point. Using this as his working concept, David researched and developed a new flare technique, which he published as a paper in the conference proceedings of the 1987 "Australian Aviation Symposium — Innovate or Enervate" in Canberra. This became known as The Jacobson Flare.
The Jacobson Flare attracted immediate attention. For the first time, it enabled the landing manoeuvre to be taught and learned as a logical skill, with pilots achieving consistently accurate results; rather than as an "art" to be mastered eventually. Since 1987, David has guided several hundred airline and general aviation pilots flying many different aircraft in applying The Jacobson Flare. Several flying colleges and schools have adopted The Jacobson Flare as standard technique, resulting in significant reductions in average times to first solo and therefore training costs, not to mention reduced stress and damage to aircraft.
In 1997 the value of The Jacobson Flare was recognised by CASA, which invited him to present at a series of seven Flight Safety Seminars around Australia. In 1996, following the merger between Australian Airlines Ltd (formerly TAA) and Qantas Airways Ltd, David was presented by Qantas with a Customer Excellence Award and was honoured by The Guild of Air Pilots and Navigators, London UK, with the Master Air Pilot Certificate (M.A.P.) No 832 in 1999. David continued to fly commercially. In 2001, he was promoted from Training Captain to Check and Training Captain, B737; and in February 2002 was a member of the operating crew which ferried the first Qantas B737-800, VH-VXA, to Australia from Seattle.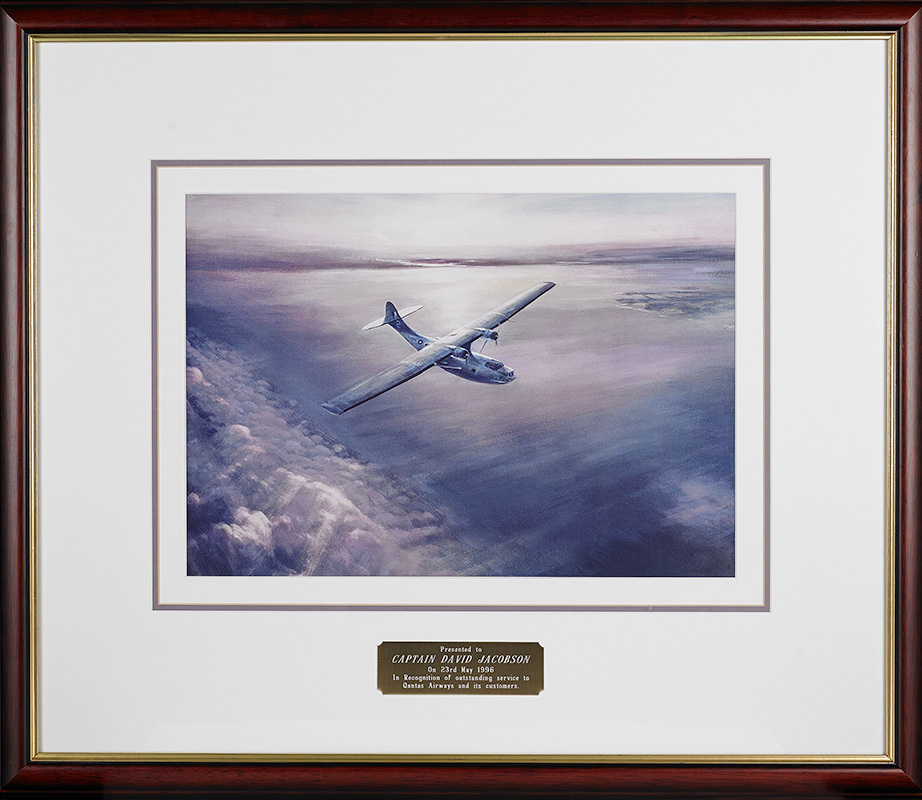 By 2004, a specifically tailored version of The Jacobson Flare had been introduced in the Qantas B737 full-flight simulator syllabus for the revised "all-variant" composite conversion for the B737-300/400/800, as the standard training technique. The Aviation Safety Foundation Australia has presented David with a Certificate of Air Safety for The Jacobson Flare "in recognition of his outstanding contribution to Air Safety 1998". Air Commodore (RAAF Ret'd) John Chesterfield has described the Jacobson Flare as "simple, unassailable aerodynamic logic." In 2010 David retired from QANTAS after 40 years of airline flying with the company and its predecessors, feeling totally fulfilled, having flown 24,000 hours (including 4900 hours of flight instruction and over 15,000 hours on the B737).
These days David lives in north-east Victoria. A member with the Mt Beauty Gliding Club from 2007-2014, piloting a Schleicher ASK-21mi self-launching sailplane, he  gained 7-years' valuable experience in another facet of aviation, soaring in Victoria's beautiful high country. David remains dedicated to boosting aviation safety and efficiency and, through the gradual acceptance and introduction of the Jacobson Flare, aviation is now taking its greatest ever single step in landing safety.
In 2012, a collaboration with Mr Jamie Durrant, producer of Essentials Magazine, to revise and redevelop the entire Jacobson Flare presentation, including the website, www.jacobsonflare.com . A new company, the Jacobson Flare Pty Ltd, was established and work commenced to produce the Jacobson Flare App for iPad – available on the App Store, in addition to Facebook, Twitter and Linked-In pages.
2014 saw the launch of the Jacobson Flare App for iPad. This exciting new app is the equivalent of a 350-page interactive book, including six videos and five on-board calculators; it was listed immediately by Apple on their 'Best New Apps' list. Met with immediate success, the app has now been taken up by pilots in 36 countries, to date, winning great respect for its content and Jamie's fine design, functionality and presentation.
In January 2015, The Jacobson Flare Pty Ltd was short-listed as a finalist for the prestigious Innovation Awards of Aerospace Australia for Avalon 2015.
June 2015 saw the next exciting step forward: a collaboration was announced, linking the Jacobson Flare with 'WINGMATE' – best described as a flight data recorder for light aircraft – and the brainchild of Peter Wezenbeek, air race tactician to the increasingly successful Australian Red Bull Air Race pilot, former RAAF FA-18 'Top Gun', Matt Hall. Peter was formerly the Renault F1 Race Team Control Systems Engineer and assisted Fernando Alonzo's team to two World Championships.
Now, these two powerful tools combine the unique JACOBSON FLARE landing parameters with the leading-edge technology of WINGMATE, to provide incomparable evidence-based feedback on approach and landing accuracy. This will greatly enrich WINGMATE's Landing Report of recorded flights, and endow pilots and operators in any branch of aviation with finite results, to review and refine levels of competency, which are now increasingly required by aviation authorities.
1 August 2015 saw the publishing of the first Jacobson Flare podcast, on Jason Miller's 'Finer Points of Flying' series.
'Former Qantas Airlines Captain David Jacobson has developed a technique for flaring an airplane that is scientific, practical and can be applied to any airplane you fly from an A380 to a Cessna 172.'
New Podcast on the Finer Points: 'What if the World was Round?' – The Jacobson Flare
On 23 June 2015, David was elected as a Fellow of the Royal Aeronautical Society – a highly prestigious recognition from the worlds leading aviation-oriented learned society . *
'Fellowship is the highest grade attainable and is only bestowed upon those who meet the requirements for Member and who can also demonstrate that they have achieved one of the following in the profession of aeronautics or aerospace:
Have made outstanding contributions;
Have attained a position of high responsibility in an influential role; or
Have had long experience of high quality'
This is undoubtedly the greatest honour David has achieved. He was presented with his FRAeS diploma in Melbourne on 7 October 2015, just ahead of a very well-received presentation of the Jacobson Flare to the RAeS.
David is now looking forward to contributing further to the aims and aspirations of RAeS members.