Tributes
Pilot and Industry Response
Martijn Koenders – 10 June 2015
'Dear Mr. Jacobson, I hope you are well. Just a quick note to let you know that I spend last Saturday reading your app/book and repeatedly watching the videos. To my surprise, starting with the first landing on Sunday, during my lesson, every single landing went 'perfectly' (almost never landed before without the instructor taking part/over..) and without help (prompting) from the instructor.

This preparation has led to me having flown my 'first solo' last Sunday and I felt confident during every one of the three landings. Naturally a long way to go but filled with confidence, thank you for this!'
Martijn Koenders
Netherlands
Dmitry Dakhnovsky – 9 June 2015
'I am a happy customer of your iPad app and first off would like to extend my thanks for the beautiful and intuitive design as well as the most useful content.

All of the instruction I received on how to land has been very ad hoc, but having a degree in math, it's clearly a geometrical problem, which you so eloquently solved and explicated in your app.'
Dmitry Dakhnovsky
San Francisco, CA, USA
Marc Santacroce – 3 February 2015
'The Jacobson Flare App is one of those aids that make life easier... Everyone says that mastering the landings was the hardest part of learning to fly. Do it the Jacobson Flare way, and they won't be.'
Click here to read the original copy
Marc Santacroce
San Francisco, CA, USA
Mike Bernays – 7 November 2014
'I was gob smacked about how professionally this [Jacobson Flare app for iPad] has been put together. I've just realized… that I have been intuitively doing what you explain so eloquently for a long time now!'
Click here to read the original copy
Mike Bernays
Tarragindi, QLD, Australia
---
Jamie Durrant – 1 November 2014
'Not a day goes by without thinking what a great achievement it was having helped David Jacobson to develop The Jacobson Flare app for iPad.'
'It is a success in both personal growth and with the knowledge that this very powerful landing and flare training tool is yet again improving the landing training standards and results for all pilots.'
Jamie Durrant
Essentials Magazine & Multimedia
Benalla, VIC, Australia
'von FlightNav' - 21 August 2014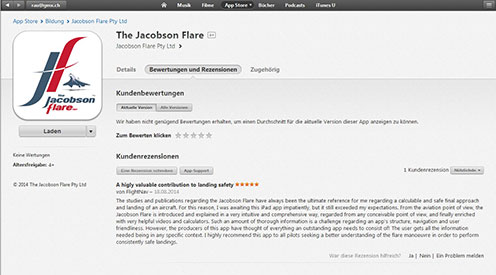 'The studies and publications regarding the Jacobson Flare have always been the ultimate reference for me regarding a calculable and safe final approach and landing of an aircraft. For this reason, I was awaiting this iPad app impatiently, but it still exceeded my expectations.'
'From the aviation point of view, the Jacobson Flare is introduced and explained in a very intuitive and comprehensive way, regarded from any conceivable point of view, and finally enriched with very helpful videos and calculators.'
'Such an amount of thorough information is a challenge regarding an app's structure, navigation and user friendliness. However, the producers of this app have thought of everything an outstanding app needs to consist of! With two distinct presentations in landscape and portrait, the user gets all the information needed, being in any specific context.'
'I highly recommend this app to all pilots seeking a better understanding of the flare manoeuvre, in order to perform consistently safe landings.'
'von FlightNav'
Zurich, Switzerland
---
Captain David Butt - 7 August 2014
'Captain Dave Jacobson spent many years as an instructor and training captain refining his ideas on how to land aircraft ranging in size from small piston engine light aircraft up to large passenger jets.'
'After several years of hard work he has produced a useful application that should be in every flying training organisation's suite of learning (/ teaching) aids. There is plenty of detail, actual videos, and great artwork. I use his aim point calculators as part of my approach preparation every time I go to a new airport, or to refresh my memory for a less (frequently) used runway. '
'If any pilot chooses to purchase this application just for the interactive aim point calculators it contains, it would still be a great buy. I commend it to pilots of all aircraft types.'
Captain David Butt
Captain B737
Melbourne, Australia
Captain Gary Gould - 24 July 2014
'Congratulations on the publishing of your "Jacobson Flare" app. It is indeed a valuable addition to any pilot's flight bag.'
'The app is, quite literally, a work of art in itself. But the most important part is the message it carries. For any pilot, and in particular student pilots, this app will prove to be a real gem. It is filled with methods of getting the final approach path and landing correct, then backing it up with those fabulous videos. From light aircraft at small country airfields to heavy jets at major airports.'
'It is something for all aviators.'
'I particularly enjoyed Chapter 6 "Reviewing and Troubleshooting" which allows the pilot to discover why a particular landing did not go quite as planned. The detail provided in the app is thorough, but at the same time an individual can go into this detail as far as they care to and still get the message.'
'Runway markings, visual aids, landing calculators for various types of aircraft – it is all there. Wonderful!'
'I recommend this app to any pilot who wants a greater understanding of the landing manoeuvre.'
Captain Gary Gould
Captain A380
Sydney, Australia
---
Captain Alan Cheers - 8 December 2013
'I was introduced to the Jacobson Flare almost 30 years ago. This was a scientifically based methodology which, when applied correctly, could be used by pilots of the smallest to the largest aircraft to consistently land smoothly at the desired position on the runway. I have been involved in pilot training (Airline & General Aviation) for most of my 40 year plus career. I have used & trained the Jacobson Flare and am very pleased to see the development of this training app. '
' I believe this is the most comprehensive landing training package available. As we continue to regularly see landing incidents in all facets of aviation this has to be an opportunity to consistently achieve the landing outcome desired. '
Alan Cheers
Captain B737
Melbourne, Australia
John Ewing - 10 July 2010
'Before going any further, let's get this out of the way: The Jacobson Flare is not a parlor trick. It doesn't involve a deck of cards or a pact with the devil. '
Click here to read the original copy
John Ewing
Flight Instructor
California, USA
---
Justin Ley Crisp - 16 August 2001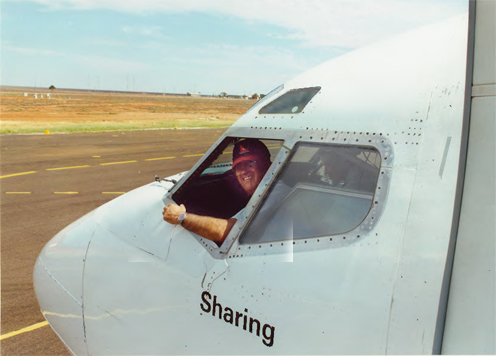 '… my still strong impression from our flight was just as marked as the impact you had on me (during your presentation on 'landing techniques') at the CASA Flight Safety Forum in Brisbane – all those years ago. I'm convinced that this was not only due to your magic ability and passion for 'precision flying' but, more importantly, your passion for sharing. This became clear to me as you made yourself distinctly different from all the other captains I've met on the flight deck – by not showing me, but INVOLVING me.'
Click here to read the original copy
Justin Ley Crisp
Brisbane, QLD, Australia
John Chesterfield - 15 May 1998
'Since introducing the Jacobson Flare to our staff, our typical student time to first solo is around six hours.'
' … many airline pilots who return from overseas each year to renew their instrument ratings … flare the Piper Seminole way too high, using some indeterminate estimate of flare height appropriate to large wide-bodies! When the 'aim point / cut-off point' technique was explained to them, almost all have subsequently landed this 'low to the ground'' aircraft with little difficulty or apprehension.'
'I am convinced that the Jacobson Flare … is the greatest single advance in flying training in many, many years. It is based on simple mathematically derived principles that are easy to apply and, to quote Handley-Page's description of the crescent wing design (of their Victor bomber), represent "simple, unassailable aerodynamic logic."
'One of the most significant benefits I see is that many future airline pilots will have learned the most effective approach and landing technique from day one, and will never have to change as they progress up the ladder of aircraft types.'
'Airline check and training organisations are going to owe you a large debt.'
Click here to read the original copy
John Chesterfield AM MRAeS
Air Commodore RAAF (Ret)
Chief Pilot/ Managing Director (Ret)
Phoenix Fixed and Rotary Wing Training and Charter
Coolangatta Airport, QLD, Australia
---
Christian Dorand - 6 March 1998
'I was very much impressed by your excellent presentation on 'Landing Techniques at the CASA Flight Safety Seminar, held in Brisbane, December 1997. For the first time, pilots could be explained this very 'hazy' phase of flight with a cohesive, consistent, theoretical and logical mathematical concept.'
'Since then I have practised it and it works every time; and it is immensely satisfying. Holding an Australian CPL, I have had the opportunity to fly in Europe and the US, yet I have never met anyone else who could technically describe this delicate and demanding phase of flight as you have.'
'In my opinion, this technique should be taught in the flying syllabus from day one as it definitely improves safety and is so efficient. Moreover, it will avoid so much frustration and wasted time and money like I experienced during my first landings.'
Click here to read the original copy
Christian Dorand
Currumbin Waters, QLD, Australia
Neil McGowan - 27 October 1997
'I attended the (CASA) Flight Safety Seminar in Sydney on Sunday and was intrigued by your talk on the Jacobson Flare. I am a Student Pilot with thirty-eight hours and have passed my GFPT and confess that I find the landing process still a bit of a "hit and miss" affair which I hope that I will be able to improve by using your method.'
Click here to read the original copy
Neil McGowan
Bilgola Plateau, NSW, Australia
---
Richard Woodward - 1 May 1996
'This issue marks the first significant contribution from one of our own members. Many of you will have heard of or, indeed, even used the Jacobson Flare.'
'You will find it an interesting concept which may cause you to think about your own flare technique.'
'The mathematics of the Jacobson Flare technique have been checked by a Boeing engineer as well as several other flight test and flight dynamics qualified people. Suffice to say that it is mathematically correct.'
'In publishing David Jacobson's paper, I am firstly acknowledging that David has put an awful lot of work into his flare technique. Secondly, I believe that aviation is a constant learning process and that David's paper contributes to that learning process.'
'David's paper has attempted to quantify and provide some consistency to what is a highly dynamic process, and for that he must be commended.'
Richard Woodward tp
FO (now Captain)
Editorial – The Longreach Flyer No 3
Australian International Pilots' Association
Woollahra, NSW, Australia
Peter Robinson - 31 January 1996
'While I may use other visual cues in the landing manoeuvre, the Jacobson Flare is the primary method that I rely on. Even in the one month of flying since the completion of my training, I have had several landings where either the weather conditions were poor, the night dark, the pilot tired or a combination of these and this landing technique seems to be a reliable way of ensuring a flare at the correct point when some of the visual cues are lost or are deceptive.'
Click here to read the original copy
Peter Robinson
FO (now Captain) B737
Gymea Bay, NSW, Australia
---
Ross Taylor - 27 October 1995
'After not landing an aircraft for an extended period of time, except a few times in light aircraft, your approach and landing technique was timely and warranted.'
'Your guidance into path control on approach helped me, especially during the time it takes to develop the visual cues which we all use, often subconsciously. When to initiate the flare was initially invaluable and something I use all the time as I gain experience, as another cue. You will be pleased to know that I have often been complimented for the accuracy of my approaches and landings. Most of the credit belongs to your lateral approach.'
'The Jacobson Flare technique has been very beneficial in performing smooth, accurate landings. Perhaps, more importantly, the visual cues offer an excellent basis for self analysis when things don't go quite to plan'.
'Most pilots cannot verbalise what they do or look for. Your technique is very simple and works consistently and safely.'
Click here to read the original copy
Ross Taylor
First Officer (now Captain) B737
Kew, VIC, Australia
Barry Carpenter - 1 November 1993
'The first positive aspect of the Jacobson Flare was standardisation, which is now at a high level.'

'The technique was received with a great deal of enthusiasm and interest within the college. Not surprising, considering the lack of alternatives.'
'I have absolutely no doubts about its effectiveness and relevance to airline-sponsored ab-initio students (or to anybody else for that matter). It is the mainstay of technique taught at this College.
Click here to read the original copy
Barry Carpenter
Chief of Standards and Testing
Australian Aviation College
Parafield Airport, SA, Australia
---
Trevor Ghersi - 16 June 1992
'I have been using your technique and have had great success as I have consistently sent my students solo below ten hours and, indeed, two in less than eight. I think it's great and I have re-educated myself to land my company's aircraft, be it the Cherokee or the Navajo, with much less effort and with far more consistency.'
Click here to read the original copy
Trevor Ghersi, Alice Springs, NT, Australia
Daryl Wilmot - 22 September 1991
'I cannot recall ever being instructed on a more practical or adaptable method … it certainly takes the guesswork out of this critical area of flying.'
Click here to read the original copy
Daryl Wilmot
Bellbird Park, QLD, Australia